, into the files MAI-1(IDcode).EXE, for cancer, MAI-2(IDcode).EXE, for non-neoplasic diseases and VAI(IDcode).EXE, for all diseases (see below). They include a stand-alone browser and the following files depending on the volume:

1.- cover1.htm / cover2.htm / coverv.htm
2.- content1.htm / content2.htm / contentv.htm
3.- moabdat1.htm / moabdat2.htm
4.- biblio1.htm / biblio2.htm / bibliov.htm

E-MAIL DELIVERY NOTE:. The MAI e-book is sent as an e-mail attachment. Compressing the e-book into a ZIP file (up to 1,5 MB) avoids the problems found with many e-mail firewalls and filters which automatically delete attached EXE files for security reasons. You will need a ZIP file decompressor such as Winzip® or similar to obtain the EXE file. The latest version of Winzip can be downloaded from their web site (www.winzip.com) or alternatively, you can download and install Freezip.exe (285 Kb) from our main web site.


SYSTEM REQUIREMENTS, REGISTRATION AND USE :

A computer with a Pentium 400 Mhz processor and 64 Mb of RAM is the minimum recommended requirement. The MAI software has been fully tested in STANDALONE (not network-connected client or server) sites under Windows® 95, 98, ME, XP, Vista and 7. For Windows NT4 and 2000 in standalone mode, please contact us before purchasing. In case you have any doubt about the registration procedure, please contact us. The MAI software does not work under Windows 16 bits (3.1 or 3.11).

Every license of the MAI software has an unique ID code assigned by us (indicated between brackets in the file name) and must be registered for its use in a specific computer site.

To register each license, follow these steps:

1.- Copy the purchased MAI*.EXE license file in any directory of the hard disk of the selected computer site where you want to use it. Then execute it.

2.- It will appear a registration screen as the one you can see below but with a different "computer site code" (CSC), indicated as "key for ...", above the registration box (in the example screen this code is 0014D50561).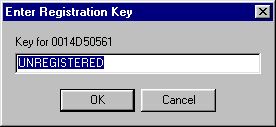 3.- Send us, by e-mail, said "computer site code" (CSC) which appears above the registration box in the selected computer, indicating also the corresponding ID code assigned by us to said license. Check the CSC codes twice before sending, please.
4.- Within 24 h, we will send you back the "registration key code" (RKC) for each license to be installed in said computer. Only one RKC code will be given for each license purchased.
5.- Copy (Ctrl+C) and paste (Ctrl+V) said RKC into the registration box, instead of the "UNREGISTERED" label, and then press "OK".
6.- It's done. From this moment, this registered license can only be used in said computer site, as long as its hard disk is not formatted.
7.- Repeat this process for as many licenses as you have purchased, executing them in the same or in other computer sites. Remember that each MAI e-book (independently of the type of license) can only be registered for use in ONE computer site forever. MAI "annual update licenses" have also unique ID codes and therefore can be registered, if wanted, in different computer sites from those of any previous edition.
To view, execute the registered *.EXE file. To search a word in a file, you can use the command "search". There is no need of any external browser, such as Netscape Navigator® or Microsoft Internet Explorer®. The MAI e-books are optimized for using small fonts in the Windows monitor control panel and for a screen resolution of 800x600 pixels.

WARRANTY AND DISCLAIMER:
The software, sent by e-mail attachment, is warranted to be free of defects for a period of 20 days from the date of sending of the registration key code (RKC) or 40 days from the date of the invoice/receipt, whichever is the first. If we are notified of such a defect within the warranty period, we will analyze within 24 h the reported defect and eventually replace the defective software with another one of the same type.
The MAI software is provided "as is" and without any other express or implied warranties, including, without limitation, the implied warranties of merchantability and fitness for a particular purpose. Any liability arising out or in connection with the use or performace of the software will be limited exclusively to product replacement. Any decisions the purchaser makes based on information contained in the MAI software are its sole responsibility.
Every licensed copy has a unique identification (ID) code indicated, between brackets, in the corresponding MAI*.EXE file name and in the invoice/receipt. This ID code has to be indicated for any inquiry or discount offer in future editions.

LICENSE TERMS :
1.- The MAI and VAI softwares are licensed, not sold. Licenses of use are obtained by purchasing a copy of the MAI or VAI softwares and registering them as indicated above.
2.- The following licenses (copies) are available:

- "First site" license (FS): Authorizes the use of the MAI software in a single stand-alone (not network-connected) computer site.
- "Additional site" license (AS): Authorizes the use of the MAI software in a single stand-alone computer site so that it can be used simultaneously with the FS, AS or previous LN licenses installed in other computer sites. These licenses are sold only to customers who have purchased FS licenses and up to a maximum of 3 for each of said licenses.

TECHNICAL SUPPORT, INQUIRIES AND ORDERS:
http://www.gallartinternet.com/mai/